I love the feel and smell and cozy effects of a new or vintage book. And while those tablet gadget thingees are slowly phasing books out, there are plenty of people out there who recognize and appreciate the value and importance of preserving the historic culture of PRINT, and what better way to do this than with your very own book collection. Sadly I've witnessed way too many people literally throw their old books away for not knowing what a novelty they'll be in the years to come.
So I put a visual collection of ideas together for the book junkies of the world, whether you're looking for ideas to organize your bookshelves or quick and easy book display and vignette ideas. And if you've always wanted to be part of the cool kids club and appreciate the art of books but never liked reading, you can start right here! I found a few awesome and instant classic vintage collections on Etsy that are color coordinated so you could begin by incorporating them into your decor and slowly getting through reading each one so you don't look silly when one of these fabulous books starts a dinner party conversation that you can't carry! (...Just kidding! but not really...)
Here are some ways to create and display an instant vintage book collection... with some divine library sprinkled interiors and some color coded classics I found on Etsy. It will infuse any drab interior space with a pop of color and a ton of personality.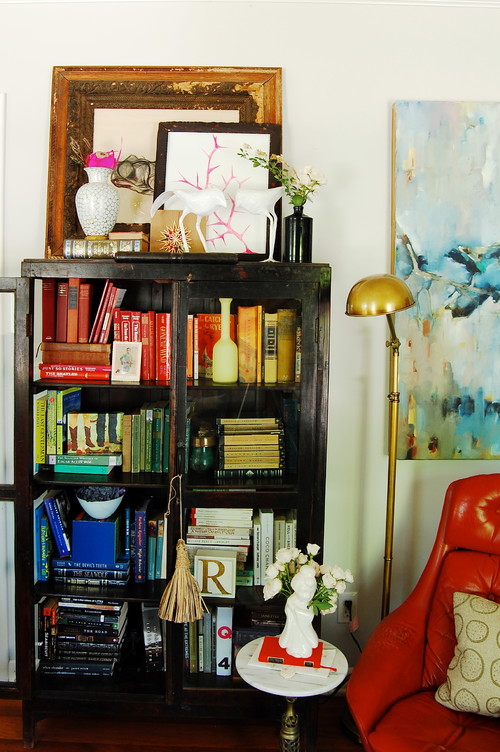 The art of stacking provides opportunity for pretty vignettes by
layering with other thrifty finds...
via
Stack them on the floor to create table-height surfaces...
via
Switch it up from horizontal to vertical stacking for interest in a monochromatic vignette...
via BHG
Create nooks for your books in unexpectedly clever places...
Bookstore style display allows the book's cover to transform into a framed piece of art...
What a whimsical way to preserve a delicate collection...
This is stacking for the proactive reader...
Stacking your books underneath the coffee table saves space and looks super stylish...
via
Lonny
Check out the creative way this man decided to recycle old books and use them as decorative installations!
Amazing Paintings by Mike Stilkey...
via
Instant Vintage Book Collections...
via
UniquebyHydeandChic
Charliesnest
Bellabalou
HucksterHaven
HucksterHaven
Repoville
Jaysworld
And if you're short on space and don't read anyway but still love the look of a library...
AbleandBaker
and my all time favorite for no other reason than the pug getting ready to jump off the couch.
Until next time,