In preparing design plans for our own attic space, I've been scouting Houzz for the brilliant inspiration it typically provides to catapult me in the right direction. This once ignored space is going to be transformed and functioning as an office/studio/lounge/storage space! Yes- and we need to make all that happen with very little floor space as we have a low pitched roof which gives us very little head clearance to move around, unless you're a little person. And there is nothing little about us.
The thought of dwelling in an attic used to make my skin crawl. In fact it still is a very creepy concept to me. Have you ever seen the movie "Flowers in The Attic"? (And this is why...) So can you blame me when this is what the bare bones of the attic we're renovating look like? Surprisingly I see a beautiful finished attic in my head. The same attic I told you about in the
Amityville Bungalow that is fixing for a Major Renovation.
Exhibit A- The entire attic is centered by the staircase so what you see in the photo is mirrored behind me.
I do love designing small spaces for their cozy effect and because they actually make you use your brain over and over again, until pieces of the puzzle fit perfectly and there is no doubting it's functionality. For me, great design is making your living space (no matter how tiny) comfortably functional. I don't know how this happens-it's in our DNA somewhere...or something. What I mean is we always adapt to the spaces around us in a way that makes us feel secure enough to get through the day as conveniently possible. We design with our instincts and adapt to those inaccuracies with our reflexes. You may know what it's like waking up late and suddenly being able to zip through a room just missing banging your knee on the coffee table and dodging that shelf with your shoulder by a centimeter while turning the corner to get to the bathroom and then swinging the medicine cabinet open but just missing your sweetheart's nose by a hair so you can both stand in a 9 square foot radius to get ready for work. Unless of course someone or something is not in it's usual place, or you're still half asleep for neglecting to take your vitamins the day before. Or perhaps you're simply claustrophobic... in which case you may want to wear a helmet at all times! haha just kiddin...but you get the point. Small Spaces are a trip. This is why designing in ways that make a room safely functional before making it look pretty is important. Sorry for the rant. No, I'm not. :)
Anyway, I am in for some serious space planning brainstorming action with Mista B, and we're very excited to show you the 3D plan when its all done. In the meantime, I found these to be my favorite bits of inspiration from the small attic spaces featured on Houzz...
Attic Art Studio- Dreamy! This bright, modern space with minimal decor allows the user to focus on their creations with the perfect view for endless bouts of divine inspiration.
Attic Yoga Studio- What a brilliant use of space since you'd spend most of your time on the floor anyway! Love, love the skylights! <3 div="">
3>
Attic office- I would kill for this kind of office privacy! Ok kill is a strong word...but twist arms, no doubt. Loving the mysterious sophisticated vibe in here.
Sullivan Building and Design Group
Attic Walk-in Closet- With upholstered walls, a mini chandelier and hardwood plank flooring, this attic has classic shabby glam appeal that any woman would go gaga over. I just love this idea to pieces.
Attic Playroom- How peaceful, fun and well-organized! Great haven for little people.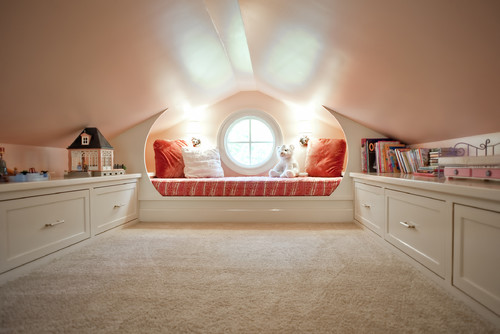 Attic Library- If I had this cozy cabin to slip into, I'd never leave! Ever...well maybe just to stretch my legs and make some lunch. haha
Attic Chillout Room- There is plenty to do in this contemporary micro-attic. I personally think the pool table is pushing it since there isn't much head clearance but the span is long enough to stretch out without getting your eye poked out!
Storage Storage and more storage- You can't go wrong with this concept especially if you're creating a studio of sorts and need to compartmentalize a million materials.
Well then. I guess they hadn't planned on twins?...lets hope they at least have different haircuts! Either way, beautiful architectural design and just enough space for these custom built-in beds, and perfect for guests or a pair of inseparable siblings.
Whatever your plans are for your tiny attic, keeping "universal design" in mind for a future owner or future family member is the best investment-savvy muscle you can flex. Of course, having home improvement skills rocks too...
'Til next time ;)